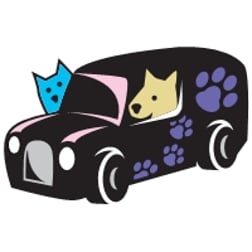 Where it all began – the Anaheim Sanctuary and Transition Center
Located in the Anaheim resort district, our sanctuary and transition center is the hub of what we do. Cats and dogs stay here for various reasons, including socialization for adoption, intensive medical care, and hospice care.
Some cats and dogs will remain in the category of "unadoptable" because of age, health conditions, temperament or personality. These pets are as important to us as any other pet we see and we provide food, medical care, a clean environment, and plenty of love. If a condition changes in which we can adopt out these pets, or a truly special pet parent sees the uniqueness of these pets, we do rehome them where possible. If not, they are with us through their natural lives – and loved every minute of it!
For those cats and dogs that can be adopted, the Center is a transition from unwanted to adoptable. Our volunteers work with them to determine their personalities and temperaments, in addition to providing socialization and love. They are also medically vetted, including sterilization, vaccination, and microchipped. When ready, these pets are sent to the Adoption Center in Petsmart in Brea where their socialization continues with our in-store volunteers. These pets are ready for their forever homes!